A Better GPS Than Garmin
Garmin is commonly recognized as the best GPS in the world. Although it may be true in some degree, there is actually a better alternative that is still a secret. It is inexpensive and much more powerful than any Garmin at the same price. The better GPS is the unique SuperGPS system brought to you by Better GPS Network.
What is SuperGPS
SuperGPS is a software system built on Microsoft Windows CE operating system. It is not specific to any brand of GPS. This system can be installed on almost any WinCE based GPS devices, which will unleash the power of WinCE system and technically turn a GPS to a portable personal computer system. After upgraded to SuperGPS, you GPS will be able to perform better navigation, plus many other functionalities that were not previously available on your GPS, such as playing music, videos and games, reading ebooks, viewing pictures, MS Word, MS PowerPoint, MS Excel and PDF documents, just to name a few.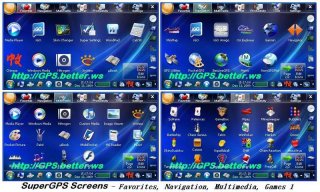 Why SuperGPS
SuperGPS makes the most out of your ordinary GPS system. It is not only an essential tool on the road, but also a handy swiss knift for all your daily needs. Weighted at about 200g, it is much more convenient than carrying a laptop(2000g+) or netbook(1000g+), while capable of most tasks that you expect to do with a laptop or netbook. For as little as about $160, you have a multi-function SuperGPS which has many features even a $1000 garmin lacks. You can use it for navigation, for entertainment, for work, for writing a blog or a novel , for taking notes, for studying, for killing time, or just for showing off how smart you are to own such a superb little electronics without paying a fortune. Although you might have to argue with Apple fans whether a touch screen SuperGPS is better than, or as good as an iPad, it is unarguable that a SuperGPS is lighter weighted, plus you only paid a small fraction as they paid an iPad. Another good point is, you don't have to buy every upgraded version and have to lower-sell your old one, as most Apple fans do.
How to Get a SuperGPS
As mentioned before, SuperGPS is a software system. It is only available at our Better GPS Network. You can get a SuperGPS compatible device from any GPS store, then come to us for a SuperGPS system upgrade. Keep in mind that Garmin or Tomtom is NOT compatible with SuperGPS. Commonly seen compatible brands are Magellan, Mio, Nextar, Sanyo. A quick tip, turn your GPS over to look for a Windows CE license tag. It is advised to contact us for a specific model. Let us know what the brand and model it is, we will get back to you whether it is SuperGPS-compatible or how likely it is.
Occassionally, we stock in some SuperGPS-compatible devices that we believe will bring good values to you. We then pre-install the SuperGPS software system and test it. It usually is brand new and only available for a limited time and quantity. We offer them at very attractive prices. Once you encounter this unbelieve good deal, don't miss out! Grab one as soon as you can. You won't regret.
Current SuperGPS pre-installed devices in stock
Nextar 4.3″ GPS equipped with SuperGPS system, regular price $178 for a 2GB version